Cloud Atlas
By: David Mitchell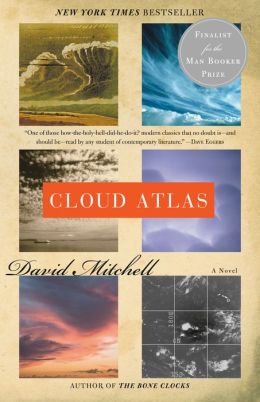 This was a good book, but I've really been struggling with how to describe it. I've stopped and started this blog post several times because I just wasn't sure how to approach it. I'm still not quite sure how to approach, so if you get frustrated by how vague this post is, I apologize in advance. But here it goes.
Cloud Atlas focuses on six characters in six different times. Each character has their own segment in the book, but there are little references that all of the characters' stories together and hint at the possibility of reincarnation. Each character's life was not completely his own. There were just enough hints and references to allow the reader to piece the connections together, but it doesn't get too obvious. Mitchell assumes the reader is smart enough to piece it together, which I appreciated.
There are a couple themes that tie this book together. One is finding your place in the world. Another is that technology and corporations could cause the downfall of modern society. And finally, love, of all kinds, can overcome.
You have no idea what this book is about, do you? Ugh, this is so vague, but this book defies a quick re-cap. Just trust me – it's a good one.
In a nutshell: It took me a bit to get into this book, but once I did, I really liked it. Three and a half stars.
Note: I watched the movie right after I finished the book and no surprise, it was not nearly as good. The movie dropped too many details from the book and went a little too heavy on other details. So, skip the movie, but read the book.